The Blue Man Group
... loved it!
I liked the way they had the theatre decked out. Its as if you just stepped into
Terry Gilliam
designed building. There are hoses and tubes across every surface of the cielings and walls similar to Brazil or 12 Monkeys.
The show was good. I had seen many parts of their performance in different arenas along side musicians, but it was funny none-the-less. So much of what they do is dependent on their props that it doesn't allow much flexability of changing the show year after year. I'm not sure if the different companies in different cities do different routines and have different jokes or whether there is a universal choreographed act that they all stick with to some degree, but I suspect the show needs something like that to maintain its "anonymous" identity.
Everyone in the fam loved the show...
Shortly thereafter, we went to
Bob Chinn's Crab House
and met up with my Uncle Bob who'd driven with his cousin from NY/NJ to Chicago. It was good to see him. He always used to run around and play with my brother and me. He caught us up on all of the happenings of the East Coast branch of the Stewart's.
Travelling seems to be the topic of conversation lately. My cousin Allison is taking a semester in Cannes, FR. My brother & Val are leaving to Northern India on New Year's Day. Friends are taking trips to Japan, South America and living in places like Hungary. I'm on a domestic travelling kick... but regardless. I had to get going to meet up with Seth and a bunch of kids who had gone to String Cheese Incident at the Auditorium Theatre.
We met up at
A Live One
... had a drink and then went to
Garaj Mahal
.
The next few hours was more like a reunion than a concert. A bunch of old friends made there way over there before we did (Mike, Jordan, Megan, Dave, Jason, Jessie, Brian etc...) and I got and gave some really warm hugs. And then shortly after we got there Kang, Travis and Mike-O popped in. It'd been three years since I've seen the guys from the cheese and that was on my way out of the music business. I don't expect to be remembered, but I was... and thats great. There great guys and eventually, when I get a spare moment, I'll post the pictures. I hooked Fareed up with some of the pictures from the 26th.
Travis introduced me to his wife. I'd never met her before, but it was a pleasure. Fareed and Travis had a quick conversation about playing. Travis said that he'd do a nice application on the floor toms. He's a left handed drummer and the drummer from Garaj Mahal is a righty, but it all worked out and Travis and Kang both got up and jammed it out for about an hour.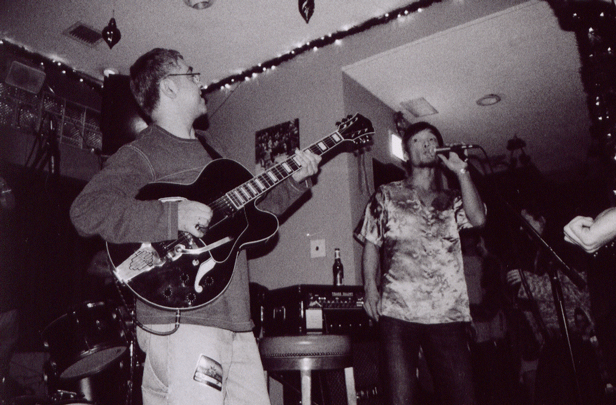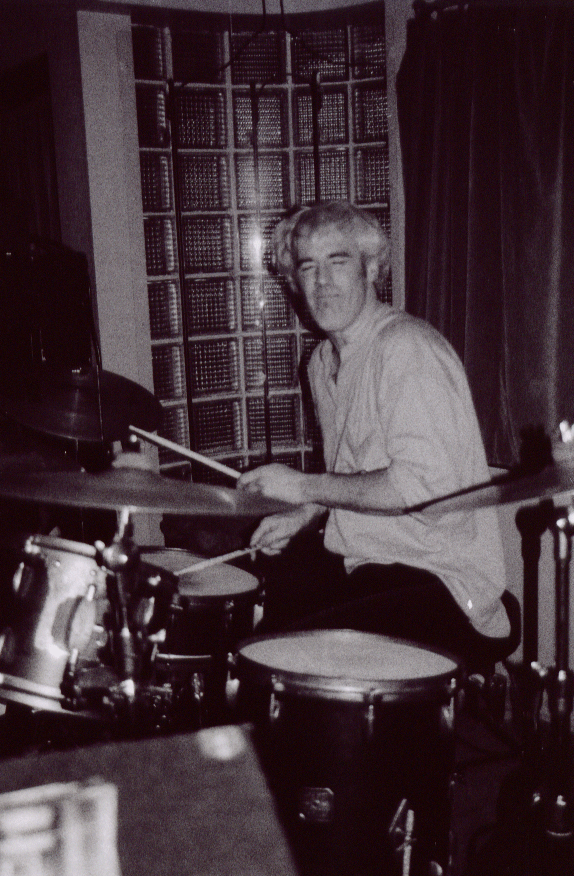 I chatted up Vince Iwinski for a couple of minutes... It was the basic exchange of New Years pleasantries. Very cool guy and a great manager for Umphrey's McGee. Here is a picture I took of Kang and Vince. Vince asked me to add the bubble.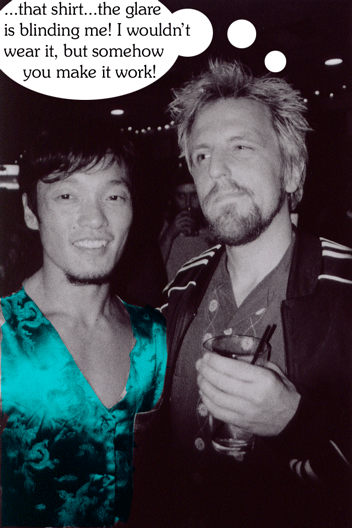 As the curtain falls on 2003... I'm think this has been a pretty good year for me. I found out what I want to do and I'm well on my way to doing just that. I made new friends. I kept old ties strong. I continued my education. I've taken chances and worked hard... and thats something to aspire to.