Its always a blast when artists get up on stage together and jam. Its also great to see more than one type of music in the course of a show. Its fun to make predictions on what certain combinations will turn out to be like. And its tough to make decisions as to who might be on a lineup. Its also tough to call a performance when you've involved so many people in the production, but sometimes it has to be done. Superfly (AKA Clear Channel/Bonnaroo) tried to take their show on the road with high caliber artists like Ben Harper, Trey Anastasio & Toots. Those of us who've studied HORDE & Lolapalooza tours said Zooma would fail and today they pulled the plug due to "unforeseen circumstances, it has become clear that it would not be possible to provide that experience at the level initially envisioned. Lets theorize for a minute about those factors: poor ticket sales, poor planning, and high cost of production. From a consumer end we could just say they didn't sell enough tickets. What could they have done better? Lets step into the murky world of concert promotion (much like gambling in many respects) and see if any light can be shed on this situation.
What was it supposed to be?
Zooma producers originally wanted a nomadic festival scene, not unlike "The Bonnaroo Tour." The plan was to set up the show with in 2-3 hours away from 2-3 major city markets. At the show, they would have 5 strong touring headliners and up to 10 smaller national / regional artists to increase local exposure and reenforce their indie status. Each headliner artist would play one 90 minute set, with the two headlining bands playing 2 60 minutes sets. The ancillary stages would have more artists with shorter set times.
The production for the event is easy enough for Clear Bros. to handle (part of Clear Channel). The venues are Clear Channel's. Superfly, for all intents and purposes, is Clear Channel. They've been using Heritage Names for a while to present the illusion of independence in a corporate environment. Bill Graham Presents is Clear Channel too. Usually, vertical integration allows for a decrease in costs and an increase in efficiency. Its cheaper for Clear Channel to put on a show at a Clear Channel venue than anyone else, because the profits will be shared amongst themselves... they control the production, distribution and exhibition involved in the show.
So where did they go wrong?
My position is they made the SAME mistakes the old HORDE & Lolapalooza concert tours did! Show business is still business. Creatives get together and talk about their ideas and come up with a plan for the show. In this case they chose Trey Anastasio & Ben Harper & the Innocent Criminals as the major headliners on the tour. There is a fair amount of crossover between the two artist. It pushes commercially with Ben Harper and anytime you put a member of Phish in the line up you have the hippie draw. This bill was intended to get the college frat hippie to come out. The other artists on the bill were meant to augment the scene and increase #s of musicians on stage. The idea is that you have enough overlaps to generate a buzz in a number of different scenes. I drew a graph to help you see what I think happened.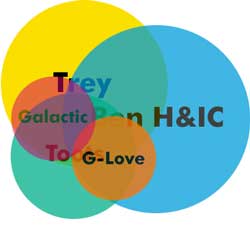 The overlaps appear to either not be broad enough and some artists don't really increase the draw at all. The addition of G-Love & Galactic don't bring too many new numbers to the show, but rather justify people who are on the fence about seeing just the headliners. They announced the festival on schedule and the basic billing. By the time tickets went on sale there was a big media push in print, internet, and radio advertising.
You want at least 1/3 of the seats sold on the opening release of tickets at any event. The first weekend for a show that size is going to be the highest grossing until the weekend of the event. You get a good feel if you're going to meet your break even point. In this case, corporate doesn't want break even. They're looking for a big return on their investment ~25% - 50% (even though industry standard is 15% and has padded costs which we'll exclude because I'm going to give Clear Channel the benefit of the doubt, right?).
When a show is general admission, people don't rush to buy tickets well in advance
because getting a good seat isn't important. In many markets for Zooma tickets were GA. A good amount of people may have decided to go to the show, but didn't get tickets on the release, instead waiting for a weather forecast the week of the show or just general procrastination. For a general admission show in this genre, its been my experience that there is a big "walk up" on the day of show. This walk up is roughly equal to the presale. This is hard to factor into the equation when there's alot of money riding on the line.
This is not the first time SuperClearBonnaZoomaFlyChannaRoo or whatever you choose to call Superfly now-a-days has cancelled a show.
As Superfly (independent), they booked and cancelled Sonny Rollins to play at Tulane as one of their first gigs. Last year they told the public that Bonnaroo North East would have to be cancelled because of a tick problem. This was an interesting cover for their failure to secure necessary permits from local city governments who had real questions about the safety of an event like this in there lil town. However, they sold tickets prior to having everything set up and eventually cancelled when it became clear they weren't getting the community behind them. Now with Zooma tour officially cancelled because of their cold feet, Superfly & Bonnaroo is in danger of damaging their credibility as a reliable brand.
Zooma didn't pay attention or respect other festival's brands and chose to directly compete (as clear channel does) outside of their established market. Zooma was a direct threat to the grassroot festivals that grew from the ground up in college towns and cities across the nation. These are the same festivals that Bonnaroo relies on to generate their headliners. These are the same promoters they woud have needed to promote their festival successfully.
Instead they worked through the newspaper, internet and radio media blitz. Its highly effective in most genres. They tried to generate a buzz by increasing the number of artists on the bill. Zooma didn't recognize the regional competition (other summer concert festivals) for our money. Here in the midwest we have: Summer Camp, Big Wu Family Reunion, Big Summer Classic, Waukarussa, 10,000 Lakes Fest, etc... What separates these festivals from Zooma? I could draw you another chart, but I bet you get the idea. They're going for the same crowd in too close a span of time.
Finally, their attempts to increase ticket sales were increasing their costs in advertising, artist fees and production costs. Any touring circus with that many artists on the bill is gonna cause you headaches. Zooma would require more than one stage and every artist would play less than their normal set times. Attempts to increase either increases costs, which apparently they couldn't justify in their business model.
In conclusion, though they didn't over extend themselves they decided to compete in a format in a near saturated market in the same period of time. These promoters have failed to recognize that the number of "heads" in the scene are the same from show to show. Their profit motives are preying on their limited dollars. Patrons are looking for something unique that separates this event from all the other festivals that are out there.